I drew. Yes. On lined paper. Yes. Took a photo of it rather than scanning. Yes. I was too lazy to get drawing paper.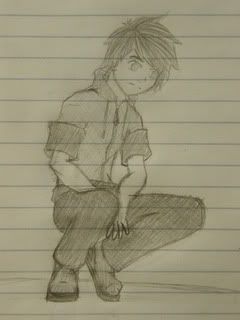 I kinda dislike this :\ Probably because his pose is a bit weird. Ohwell >_> It killed some of my time so it served its purpose.
@Neowired : Well, its summer break, so I'll have to right now xD
@Lucifer : Yes, I know, but I am way too lazy :\
@MangaArtist407 : Well, not very much anymore, like twice a month or so.