@E: No you! <333!!
@Slurp: I could but itd be like $15 for a hat. And i do what ever colors you want and to the size you need flaps no flaps checkerd striped tassels or not pompoms on top and end of tasells (ima need to make a check list for this sorta thing @@). and i could probably do 2 hats for $20. both prices include shipping tho(love flate rate shipping).
KINGDOM HEARTS ONA PUMPKIN!!!!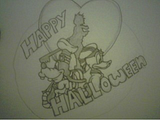 This is what i plan to put on my pumpkin this year. Probly not until saturday tho. I would do more pumpkins and all but this month has kicked my wallets ass.
If your wondering why a sihloette on sora . . . hes to hard to draw without making his head huge.