The very first baby blanket I have ever sewn. The baby strawberry shortcake her ballon and the string and the little heart shaped strawberrys are all embroidered adound the edges with badding in the back so that it raises them up just a bit.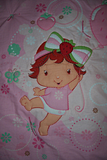 Its a gift to my cousins best friend (who my mom loves like a daughter >>) who just had her first baby. This thing took me like a month to make (it wont take that long for my next one i swear) since it was my first and my mom was the one teaching me how to make them. I coulda sold this blankie for like $100 easy considering material, badding and my time.
What do you think? (Allso i suck with cameras so thats why its all kinda crooked lol)
edit: Since this was last pages post and no one will probly c it ima repost it here OTZ forgive me.
I was inspired to do realism (More Amy Lee realism that is)
reffrence
http://userserve-ak.last.fm/serve/500/5 ... ng3_05.jpg
Its much bigger irl. I started it out as just a pencil drawing/sketch but decided it wasnt dark enough for me so i used the bottle of black ink i have just sitting afound and sorta painted it. I kinda like it and the scanner screwed up and cut off part of her dress (the tule) that i had penciled in so i will update it when i finish it.
Comments and crits welcome <3. allso i think her head isint as tilted down as it should be what do you all think?
I made a baby blanket i wanted to post and show you all but i cant get the pics off my digi cam so it will have to wait OTZ.