○ Morf: That book would sell for pennies. Lol.
○ Caleb: Thanks. I used a brain ref and a skull ref from this anatomy book I keep in my art locker. (I have three, so I put one in there, lol.)
○ Insane: Thank you! :D
♠ T e x t u r e s
I promised this to Ego yesterday, but for some reason the PM system wasn't (and still isn't) working for me. >.> It kept giving me this crazy error. Instead of just e0mailing it to him, I figured that posting it here might help others, too. :)
http://shadow125.deviantart.com/art/Circle-Fishnet-Pattern-58128993
Theeeere's the texture; I finally found it again. It's small, but if you
[add it as a pattern]
and jump up the pattern size, it works very well.
I explained how to make it look more 3D to Rei a long time ago:
Quote:
How you get it to not look flat is to apply it to a separate, transparent layer, then open up the Liquefy window (Under Filter > Liquefy). Hit the bulge key where the tummy/breast/arm is. 8D I was watching some dude on YouTube make somebody skinnier, and he was using the Liquefy window. Thinking that I haven't used it in a while, I decided to play around with it.

Oh, and I also forgot to mention that before you apply the texture on a separate layer, make the skin on a separate layer. After you finish the skin, press Ctrl then press on the skin layer. A selection of the skin should be anting around. Then fill the new transparent layer over the skin with the texture. Make sure you don't deselect! After that open up the Liquefy window and do what I said up there. Press OK then you can deselect.

If you forget to Ctrl-click the skin layer, that's okay. After you liquefy, just Ctrl-click the skin layer, press Select > Inverse, then hit the backspace key on your keyboard. All the excess junk from your texture should go away. XD

I hope I explained that half-decently. :D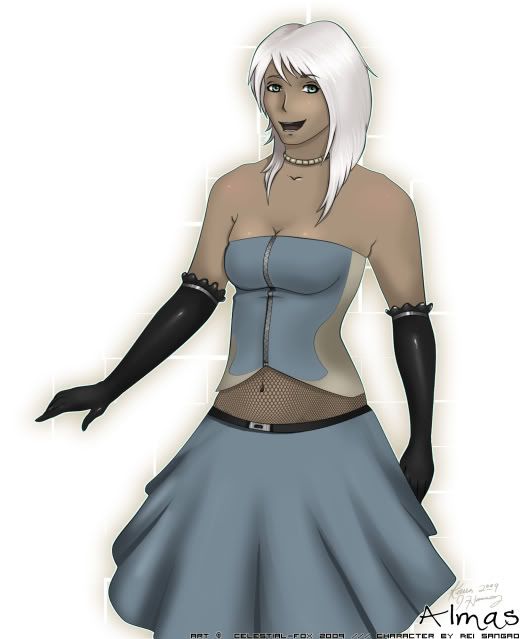 I was talking about this image specifically, which might help explain things, as well.