First of all, happy new MT, sorry for being late, I had an exchange programme.
second of all, I'm starting to like that particular nickname, I thought it was Seefy that came up with it? Sounds a but more masculine than Lucy don't you think?
Lastly and most importantly!
ART:
A 3D head made in blender, not my face in case you're wondering.
It's my first and from a modeller's perspective it's total crap.
Fervorus, the Angel of Fury. Oldest of the three silly goose's Angels, children of Lucifer.
Sounds dark right? Yeah well it is, had a crazy manga idea and sketched out my favourite character of the lot.
CODING: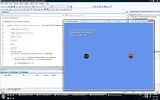 Default Startup Scene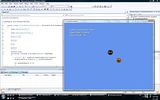 AI Chasing the player and draining his health.
Game Over D:
The Game was a simple AI test, with a Passive-Active system which updates only the Agents that are set to active, 3 behaviours and a working health system. And before you ask, Angryface was created using red colour, I had no intention of turning him brown, only found that out the other day (I can be really unfocussed sometimes...) So no racist bashing ok?